News
A new beginning for Abdoulaye, the school's first student to profit from a scholarship financed entirely by Montpellier Business School's graduates

View 3078 once
The very first scholarship entirely financed by Montpellier Business School graduates was awarded in February 2020. Thanks to the financial contributions by dozens of Alumni, and the appeal for donations sponsored by Alumni Emmanuelle Pinet (2011), a scholarship to help a student in his or her living expenses was set up. This is the first time that the MBS Foundation for Equal Opportunity and MBS Alumni have joined forces to so a student could receive financial aid to realise his or her academic goals.
The school's first and happy winner is 21-year-old Abdoulaye, originally from Orleans. He started the first year of the MBS Grande Ecole Programme in September 2019. We met Abdoulaye who talked about his career path, the reasons he applied to MBS, and his aspirations for the future.
I'll support a student

Abdoulaye is conquering Montpellier
Abdoulaye first stepped through the doors of MBS last summer, in June 2019, to sit the oral exams. Coming straight from the Centre-Val de Loire, that was his first visit to the "gates of Montpellier and the Mediterranean Sea".
After finishing a CPGE ECT (Preparatory class for Top Business Schools and Engineering schools in Economics and Commercial Technological), he decided to sit the entrance exams for the Grandes Ecoles, of which Montpellier Business School is one. His first impression upon meeting the professionals during his oral exam was very positive. The young man from Orléans explained, "The jury knew how to put me at ease right away. They really got to know me, and made sure that I didn't panic during the exam". A compassionate stance that delighted Abdoulaye. The young man admits to being very timid. He told us that he took on this challenge (Editor's note: that of entering a Grande Ecole) to develop new skills and get out of his comfort zone.
Attending MBS, a new beginning
Abdoulaye was candid when he discussed the challenge of overcoming his life's obstacles. "I had quite a few barriers to reaching my academic goals. First of all, I lived far from Montpellier and I wasn't sure that my family and I would be able to finance my studies. Additionally, I am a very shy person and I always felt at unease when speaking which, for a long time, made me feel excluded."
Despite his doubts and the obstacles he faced, Abdoulaye has met these challenges with vigour and has gotten excellent academic results. When he arrived at MBS, he discovered the services of the MBS Foundation for Equal Opportunities. This unique organisation within MBS grants financial aid to students may not be able to afford the costs of their schooling. Any student can apply for financial aid and customised support to help them succeed in their schooling. This is the approach Abdoulaye took and then was selected in February 2020 to receive the first Alumni scholarship, which was presented by Thibaut Rochette, Alumni (2010) and President of the MBS Alumni Association. This scholarship is entirely financed by Montpellier BS graduates.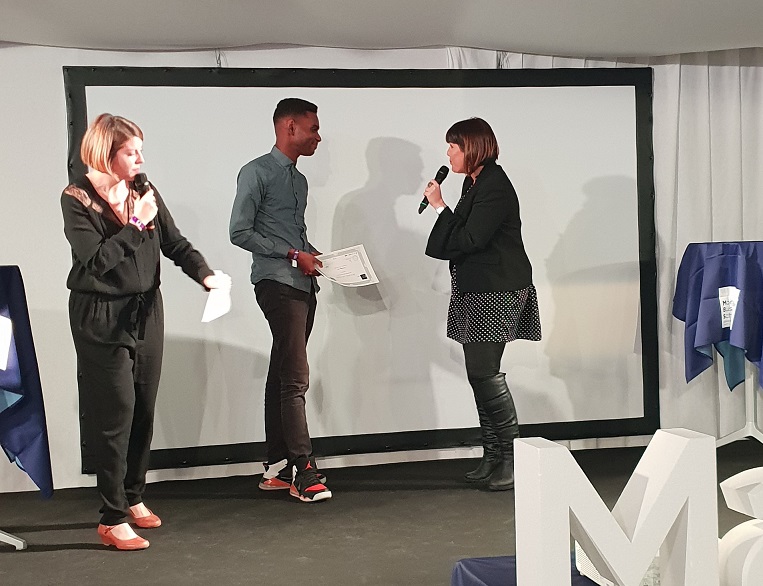 Emmanuelle Pinet, Class of 2011 Alumni, awards the scholarship to Abdoulaye
The first-year student of Montpellier Business School's Grande Ecole Programme acknowledges that he won't let his difficulties get to him. "I'm a hard worker, and I knew what my challenges and goals were so I did everything I could to pass my exams. For me being accepted to MBS is a real beginning!" With this attitude, the new student joined the Apostrophe Association (a student association whose aim is to improve students' speaking and eloquence skills) to get involved in community life on a subject that is important to him.
The challenge of the first internship during his gap year
When we asked Abdoulaye was about his choice of MBS, he said, "What I liked MBS is the professional recognition that the school provides through work-study and internship positions during the school year." Tenacious and consistent with the school's values, and to build up experience and professional skills, Abdoulaye worked over the summer as an order picker at Amazon and Deret.
These different experiences nourished his interest in the fields of logistics and human resources. Customer and supplier satisfaction and employee safety are elements that he wants to learn for his future positions. After a few job interviews held in early September, Abdoulaye landed his first long-term internship at Manpower for his gap year.
In closing, Abdoulaye wants to give a message to all Alumni involved in the life of the network. "I sincerely wish to thank all the those who donated to the Alumni scholarship. It's an honour for me. The assistance has given me more confidence and allows me to work in good conditions, take advantage of the professional and associative eco-system at MBS, and, most of all, meet new people at the school."
We are very happy to welcome Abdoulaye to the MBS community. Welcome!
---
6
I like